$100 OFF
FIRST PIGEON SERVICE
PIGEON CONTROL IN ARIZONA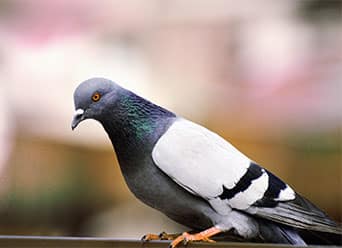 Arizona is not typically known for its pigeon problems, but they are among one of the most destructive of pests in the state. They often leave droppings on your property, carry a host of diseases as well as additional pests, build nests in vents and chimneys which can be a fire hazard, and even damage your property forcing you to pay for expensive repairs. At AZ Pigeon Control & Removal, we can help with your pigeon problem with comprehensive Phoenix pigeon removal services.
AZ Pigeon Control & Removal has an A+ Rating with the Better Business Bureau and five star reviews on Google and Yelp. Our pigeon control experts are uniquely qualified to make sure these avian pests don't do irreparable damage to your property. We provide top-rated pigeon removal services for both residential and commercial properties throughout Phoenix and surrounding cities in the Valley. Contact one of our experienced pigeon removal experts today.
Humane pigeon control methods
There are many methods to remove pigeons from your property, but we at AZ Pigeon Control & Removal use only the most humane approaches. Our methods range from bird netting and trapping pigeons to release them at a later time in a different location, to bird control spikes being installed in certain areas to prevent pigeons from roosting on your property. Talk with one of our qualified Phoenix pigeon removal experts today to find the right solution for your property.

Residential
Pigeon Prevention
Keep pigeons away from your home with comprehensive pigeon control from the Phoenix pigeon removal experts at AZ Pigeon Control & Removal.

Commercial
Pigeon Proofing
Nothing is worse for your business than a pigeon infestation. That is why AZ Pigeon Control & Removal provides quality commercial pigeon proofing near Phoenix.

Bird Removal
Specialists
The bird removal specialists at AZ Pigeon Control & Removal have extensive knowledge and experience dealing with pigeons and can help clear your property of these avian pests.
I looked at several pigeon control companies in Phoenix to see who could offer the best quote. Not only is AZ pigeon control fast, but they are easily more affordable and effective than others… Thanks for all your help!
Barbara S., Gilbert
I talked to AZ Pigeon control about my problem. We had birds everywhere around our house. A couple visits from them, and we're bird free! I couldn't be happier with the outcome!
Barry G., Phoenix
We had a serious pigeon problem at one of our commercial locations in Mesa and customers complained daily. We talked with AZ Pigeon Control & Removal, and they gave us a great quote for their pigeon prevention services. I highly recommend them if you have a pigeon problem.
Matthew D., Mesa